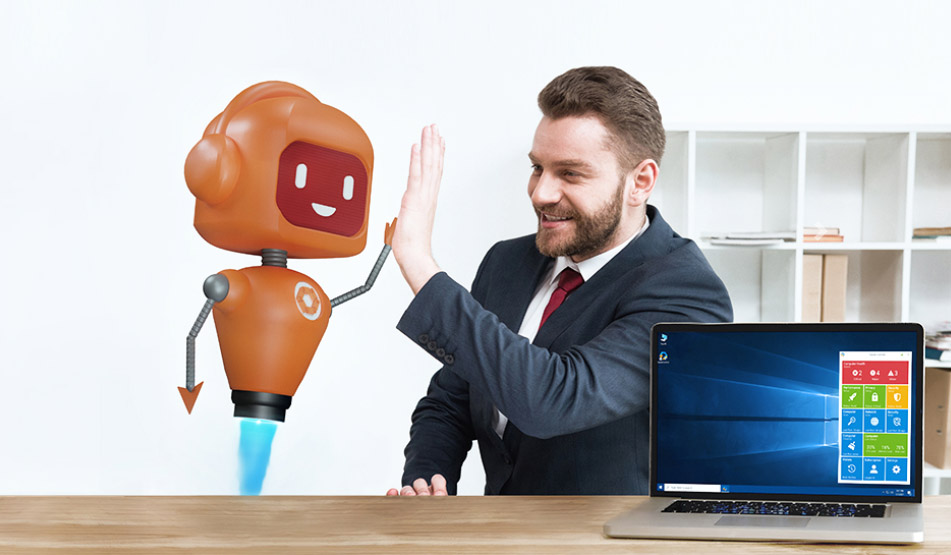 EaseeControl has nearly everything you could want for your Windows computer health, bringing with it a range of efficient features.
Do you need the supreme level of set-ups? Get this version and you can ask ADAM to do it for you. He is able to sense your PC issues and auto-resolve them while continuing your activities.
Who is ADAM Intop?
EaseeControl's intelligent AI-based robot, Adam Intop, fulfills our dreams for future PC health and performance. As a unique combination of science and engineering, Adam was particularly designed for understanding and autonomously resolve human requests regarding computer problems such as:
Fixing most of the issues that can cause PC bloatware.
Detecting and blocking viruses, malware, or cyberattacks.
Health checking on every 5 minutes for issues that can cause damages.
Protecting user's personal information, blocking apps that track and collect them.
Ask ADAM In top to make your computer speed up, install or uninstall software, check for antiviruses, scan your privacy level or fix a specific problem and you will see the magic, he will make all setup and fix your PC and make it run faster and smoother as never been before.
As a cutting-edge AI performance technology, Adam Intop continuously seeks to understand how he can adapt to users' needs through interpersonal development, so he gets wiser every time you interact with him learning to solve problems from every customer via CloudComputing.
More important is that ADAM InTop has the ability to resolve your issues proactively, without human intervention, silently and unattended, even for unknown PC problems such as Operating System not reported bugs.
Powered by AI, Adam Intop is here to improve efficiency, increase performance, reduce downtimes and ease your workload, it is just the perfect companion.
How can Adam Intop resolve my problem?
Upgrade your EaseeControl to The AI Brain Plan and simply click on the ADAM tile and start talking with him about your PC issues.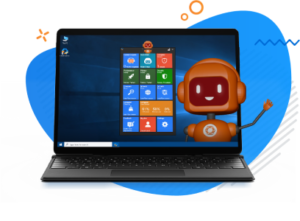 Ask him to make your computer speed up, check for antiviruses, scan your privacy level or fix a specific problem and you will see the magic.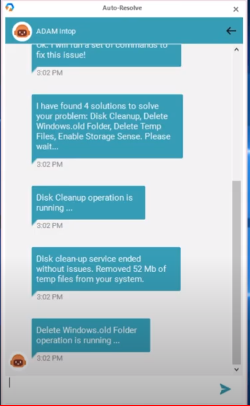 Don't have time to Do-it-yourself?
Allow Adam Do-IT-FOR-YOU instead!       
Our AI-based robot ADAM is more than happy to:
Scan your computer for any kind of problems
AUTOMATICALLY resolve issues that might threaten your PC
Block viruses, malware, or hackers that might wait just around the corner
Limit the access of unwanted apps to your personal information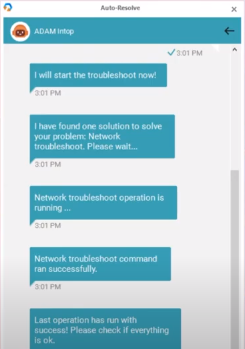 How can you take advantage of Adam's skills?
You can simply download the EaseeControl app for free and Upgrade to AI Brain Plan (30 Days Free Trial). This plan includes:
Absolute access to ALL EaseeControl Features that unlock the maximum potential of our app for your computer Performance/ Privacy/ Security and more
Absolute Scan and Diagnose of your computer: Hard Disk, Software, Network and Security problems
Adam Intop's powerful skills to detect and resolve your PC problems automatically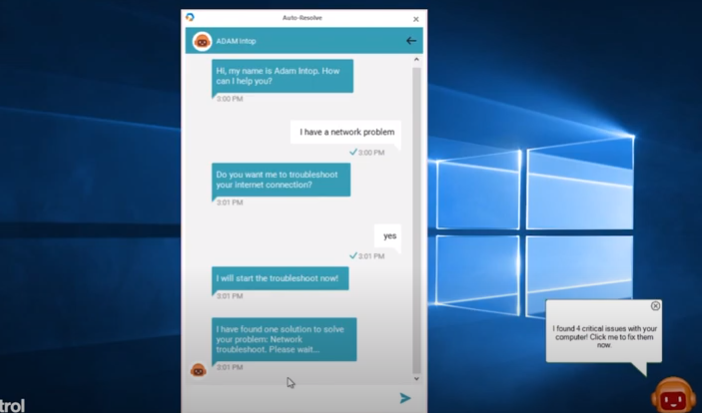 Adam Intop is learning from experience, adjusting to new inputs, and perform human-like tasks. Most AI examples that you hear about today – from chess-playing computers to self-driving cars – rely heavily on deep learning and natural language processing. Using these technologies, Adam Intop is trained to accomplish specific tasks by processing large amounts of data and recognizing patterns in the data.
Why is artificial intelligence important?
Today, the amount of data that is generated, by both humans and machines, far outpaces humans' ability to absorb, interpret, and make complex decisions based on that data. Artificial intelligence forms the basis for all computer learning and is the future of all complex decision-making. Computers are extremely efficient at calculating these combinations and permutations to arrive at the best decision. AI (and its logical evolution of machine learning) and deep learning are the foundational future of business decision-making.
Why is ADAM InTop so important for the health of your computer?
Analyses more and deeper data using neural networks that have many hidden layers. Building a fraud detection system with five hidden layers was almost impossible a few years ago. All that has changed with incredible computer power and big data. You need lots of data to train deep learning models because they learn directly from the data. The more data you can feed them, the more accurate they become.
Adapts through progressive learning algorithms to let the data do the programming. Adam Intop finds structure and regularities in data so that the algorithm acquires a skill: The algorithm becomes a classifier or a predictor.
Automates repetitive learning and discovery through data. But AI is different from hardware-driven, robotic automation. Instead of automating manual tasks, AI performs frequent, high-volume, computerized tasks reliably and without fatigue. For this type of automation, human inquiry is still essential to set up the system and ask the right questions.

START USING ADAM INTOP FOR 30 FREE DAYS